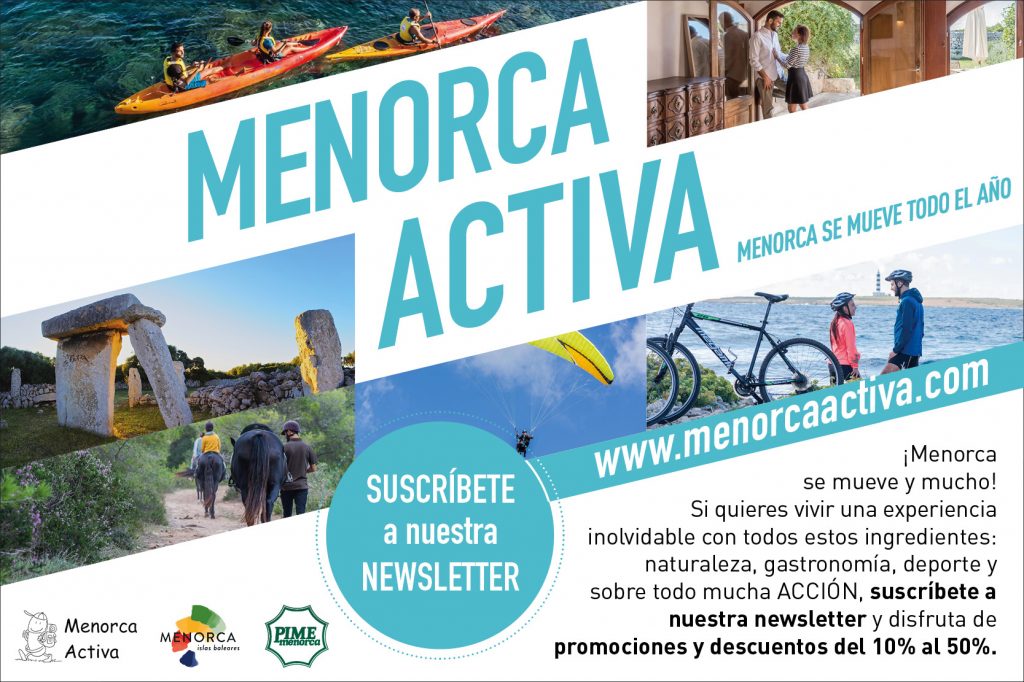 The companies belonging to Menorca Activa are happy to offer exclusive discounts and promotions for Menorca Activa news' section subscribers.
Discounts ranging from 10% to 50% can be obtained in services, with hire companies and for a wide range of activities linked to active tourism, nature-based tourism, cultural tourism and gastronomic tourism.
Don't miss out on it! Scuba diving, kayak, paragliding, paddle surf, horse riding routes, hiking routes, catamaran sailing, professional babysitters, visits to museums, demonstration of countryside jobs , transfers for excursions… The best prices for you.
If you wish to enjoy an unforgettable experience in Menorca with the best prices, you only have to subscribe to our news section and you will receive promotions and discounts from the Menorca Activa partners.
It is very easy to take benefit from this offer. You only have to show the email you will receive announcing the promotion on your mobile phone when you show up at the premises of the company in charge of it before hiring the service or activity.
If you want to hire the service in advance call or send an email to the company in question stating that you have the Menorca Activa discount and you will be informed about how to proceed.
As the promotion is individual, each person will have to show the email on his/her mobile phone in order to prove that he/she is subscribed to Menorca Activa News section. For minors and in order to do the activity, it will suffice that it is accredited by the adult who is accompanying them